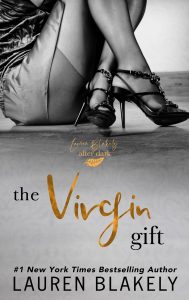 Title: The Virgin Gift
Author: Lauren Blakely
Genre: Contemporary Romance
Release Date: December 01, 2019
Summary:
THE VIRGIN GIFT,  the second book in The Gift Series, an erotic series of standalones, by #1 New York Times Bestselling author Lauren Blakely, is a red-hot, panty-melting exploration of all sorts of fantasies and it's coming to Kindle Unlimited and audio on DECEMBER 2nd!! Ebook will be 99¢ on release day only! 
"Another winner! You won't want to put Nina and Adam's story down. And just wait until you see what number eleven is on Nina's list…"


Sarina Bowen, USA Today bestselling author of Moonlighter
I might be a virgin, but I know what I want in bed. It's just that I haven't found him yet. 
Continue Reading