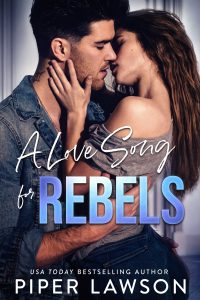 Title: A Love Song for Rebels (Rivals #2)
Author: Piper Lawson
Genre: Contemporary Romance
My rating: 4 of 5 stars
I told you last book–I told you!
I said to hold off calling Tyler a book boyfriend because he was still doing his certification courses, and this book is why. Welcome to A Love Song For Rebels, a place where Annie Jamieson and readers go to fall in love with a fully certified Book Boyfriend: Tyler Adams.
ALSFR is book two in a three-book series, so if you haven't read book one, A Love Song for Liars, you shouldn't be reading this review. Don't pass go, don't collect two-hundred dollars, do one-click book one, and start at the beginning.
Continue Reading