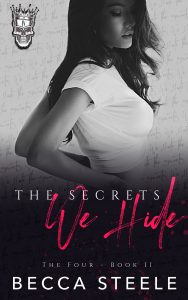 Title: The Secrets We Hide (The Four #2)
Author: Becca Steele
Genre: Dark College Stepbrother Romance
My rating: 3 of 5 stars
Ever walk into a conversation you've heard before but needed a reminder about the story to get caught up about the deets? The Secrets We Hide has perfect continuity; you should read The Lies We Tell right before it. I didn't and had to go back and read the last two chapters of TLWT for the refresher. 
Don't be me.
Welcome back to the topsy-turvy underbelly world of Alstone, where money and power are the only real things of worth. The Four and Winter are still trying to uncover what happened to Winter's father and the shady goings-on that lead Winter to the docks at the end of book one. Alstone Holdings does have a rat in the house. The saying goes, 'where there is one; there are many.' The Secrets We Hide has them coming out of the woodwork. 
Continue Reading