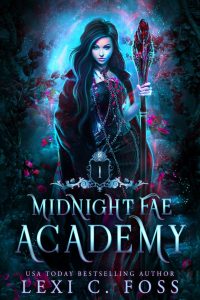 Title: Midnight Fae Academy (Midnight Fae Academy #1)
Author: Lexi C. Foss
Genre: Reverse Harem, Dark Fantasy Romance
My rating: 5 of 5 stars
Welcome to Lexi C. Foss' Midnight Fae Academy, where all the sexy Midnight Fae come out to play.
Trayton Nacht? Book boyfriend material. Check
Kolstov Nacht? Book boyfriend material. Check
Headmaster Zephyrus? I'm not kicking him out of my bunk for cracker crumbs. Check, check.
Shade? 92% into Midnight Fae Academy, I fall completely and totally in love with Shadow. Team Shade 2020.
I'm unchecking boxes; I'm kicking Zeph out of my bunk for crumbs. I'm carving 'Ali loves Shade 4eva' in the drywall of my reading room (Don't tell my husband. He just built me the reading room for Valentine's Day).
Shadow doesn't get a POV throughout, so it's one of only a few peeks into his head. I honestly love the rogue. And he is a rogue. God, I do love rogues.
But wait, What is the Midnight Fae Academy, and who cares?
Midnight Fae Academy is where the Blood Fae go to learn to use their powers. At the same age that humans go to college, Midnight Fae start attending the academy. The Blood Lines, all Midnight Fae, King Nacht, and the Elite Blood, and the Council all live within the kingdom.
Aflora is the last heir to the Earth Fae Monarchy. She maintains the source of Earth magic; she's royalty, and essential to the realm. She's not a Blood Fae in any way.
Not only is it forbidden for Shadow to mate Aflora without the sanction of the Council, but it's also a violation to bite someone against their will, and its a death sentence to mate with another fae species.
After Shade breaks all these rules, the only thing keeping her alive is her royal blood. And she is stuck in the Midnight Fae realm mainly because his bite is changing her magic, and she isn't weilding only elemental magic anymore. 
Continue Reading