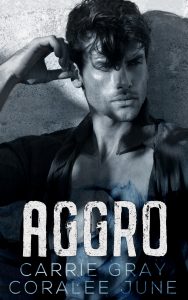 Title: Aggro
Author: Coralee June and Carrie Gray
Genre: Romance
My rating: 5 of 5 stars
Coralee June is always satisfying. She's pizza. I could happily one-click any of her books and come away from the experience without regret. And while Aggro is my introduction to Carrie Gray, it's a happy one.
Breeze Shirley is understated, and she likes it that way. She doesn't need to command the room, she lets her bestie, Violet, sparkle, and shine. Breeze is happy being in the ocean on her surfboard, riding waves. She's loyal. Breeze loves honestly and true. She's the best, best friend, a best friend could want. And Violet is her true blue. The two are deep in one another's pockets and never too far apart. This is why when Violet is murdered, it shatters Breeze's entire world–but worse it shows her all the shadows that existed in Violet's that Breeze never knew existed.
This book is categorized as a romance, but really it's much more of a coming-of-age story and a real heartbreaker, so bring your tissues because there are lots of times you are going to tear up. Breeze is an incredibly sympathetic character, and relating to her is so easy to do. She is written so beautifully vulnerable, and so full of graceful strength that you root for her to choose good things. I kept telling Breeze to choose healing instead of grief while tears were running down my face, and my nose was sniffling pathetically.
Continue Reading