Title: Voodoo Sector (Zombie Year 2099 Collection)
Author: Nala Kingsley
Genre:  Reverse Harem Fantasy Romance
My rating: 3 of 5 stars
NOLA!
I have a shelf in my Goodreads that is for 'Fav Locale NOLA.' It's a compulsion for me to read stories set in the Big Easy. And it's a delicate balance between loving and hating books set in NOLA because the city has such a strong personality. I am a gray-area-girl in everything except for New Orleans, coffee, and how many humans I can deal with within one day. I got hard limits there. It's crucial writers treat the City that Care Forgot really well.
The Zombie Year 2099 series has been giving me joy for weeks now, and Nala Kingsley's Voodoo Sector delivered up for me some hottie fairies killin' zombies. In 2099 the city has been laid waste by the undead. These aren't your comic book brain-eaters; they are excellent hunters with a taste for blood. They can scent humans, so it's hard to hide, and since NOLA is an abandoned city, it's not like you can lose yourself in the crowd. Calliope LeBlanc has the losing hand in this game called life; all bets are against her.
I think the thing I most loved about Calliope is Nala Kingsley writes her as a warrior — as Talen would say, she's a Zombie Warrior Princess. I enjoyed her never-say-die attitude. And more than that, I loved that Calliope was so very pragmatic about her survivability.
When Calliope mistakenly turns some regular zombies into super monsters, four law-enforcing fairies come to kill her for being a powerful sorceress empowering the undead. But what they discover is Nine Lifeless Ladies Lurching and a haphazard magic handler who doesn't know what she is. The five must team up to kill the Ladies before the Ladies destroy everything and everyone in NOLA and escape into the world.
It's a toss-up, has Calliope's sorcery brought about the end of times, or if fate is working some magic of her own.
The pacing was a bit off for this read. The first couple of chapters are exposition, and they are successful in building tension, and there are some nuggets here and there to make readers giggle out loud. But I feel an element is missing, some dialogue needed if only it is Calliope talking to herself or the zombies. With the TL;DR text the chapters become cumbersome.
What does rescue this dense opener is that the men are charming and easy to love from the word go. I have a type, and I loved Valoras, Talen, and Barion, but there is one in every RH that I feel is superfluous despite being a developed character.
I DON'T LIKE THE SOFT NURTURING HEROES.
Garlan made me gack during his parts. Blech… yauck…aug…heeah! I find those fluffy-bunny-comfort heroes a waste of word space. Give me the saucy, sexy, roughened-edged, wounded, or aloof characters who are plain old butt-holes and give them more book real estate.
Garlan isn't a bad character– he's not for me. I felt that a disclaimer was required after my tantrum to establish that it's not on Nala Kinglsey.
Voodoo Sector is a slow burn, an action-driven romance about supernatural post-apocalyptic Louisiana, specifically the Crescent City.
I enjoyed ninety percent of this book, all except for the awkward HEA. I feel like there are times when an author writes a subgenre that they aren't comfortable, and that discomfort becomes apparent in the reading. And the ending of this book disappointed me in how uncomfortable it made me feel reading it. The characters fell out of their established characterization, and it shifted so far outside of the atmosphere of the story; it felt as if it were the ending to something else.
Voodoo Sector is a successful NOLA novel, though. Long live NOLA! And may it survive Zombie Year 2099.
I voluntarily reviewed a complimentary advance copy of this book.
---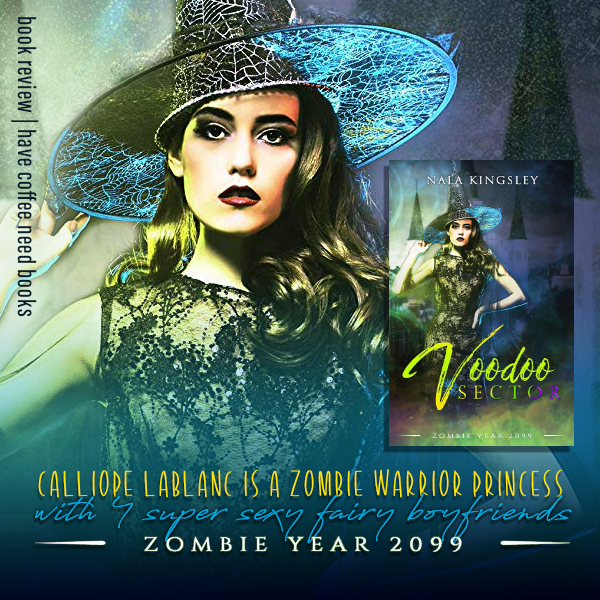 Title: Voodoo Sector (Zombie Year 2099 Collection)
Author: Nala Kingsley
Genre:  Reverse Harem Fantasy Romance
Release Date: January 21, 2020
Summary:
Welcome to NOLA, home of festivals, magic, and… zombies.
Calliope LeBlanc is not about to allow zombies to take over her beloved New Orleans. A talisman seems to be the perfect answer, especially when it turns her into a sorcerer.
But her attempt to defeat zombies backfires, and she accidentally creates "super" zombies instead.
But that's not her only issue. Four fairies arrive in NOLA, determined to kill her and clean up her mess. Four extremely hot fairies. Four fairies she needs to convince she can help them save the day and her city.
Voodoo Sector is a reverse harem that blends action, danger, and passion. Perfect for readers who love strong heroines, powerful heroes, and why choose romance.
---
About Nala Kingsley:
Nala Kingsley loves bubble baths and wine. Lots of wine, the fruitier the better. When she's not writing about strong heroines and the strikingly gorgeous men who love them, she's probably rereading Game of Thrones or watching the series for the hundredth time.
Connect with Nala Kingsley:
---
---