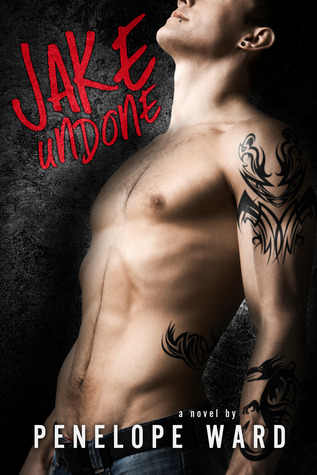 Another Book Boyfriend? Have you been good enough to get another Book Boyfriend so soon after the last one? Well, who am I to deny the world at large hot men? Especially the inked and pierced kind of guys that melt in your mouth and warm up your hands, eh? Those are the best sort of men to share!
I tried to figure out where it was that I came across Jake Undone so that I could give reference to the source but I can't remember. I just know that flipping through my Kindle I saw the cover, as seen to the right, and in a lust filled moment thought it would be a great time to read a book about a shirtless man. That logic has never lead me astray in the past and in this moment it still brought me nothing but joy.
Nina is a woman after my own mental inabilities; she has phobias of all assortments and neurosis in all flavors. When she leaves home to attend nursing school she moves to Brooklyn to stay with a friend of the family. She has three new roommates and one of them happens to eat a lot of bananas, makes origami bats with poems written inside and on her first night bring her her panties when she leaves them in the bathroom–oh and he is heavily tatted up, covered in piercings and sinfully sexy. Le sigh, fans… this is Jake Green.
But this is a book that you shouldn't judge by his cover. He's incredibly intelligent, unbelievably talented, off the charts empathetic and despite how charming he is–he's completely unavailable. When Nina begins classes she is the first to admit that she is mathematically incapable. Jake makes a deal with her, he will tutor her in math and if she gets less than an 'A' on her exams she will have to submit to one of Jake's excursions where she will face one of her phobias. Jake believes one hundred percent in pushing oneself to face one's fears so one may live life to it's fullest. Nina studies hard because after Jake makes her face the elevator phobia she would pretty much do anything not to have to face any more fears… but one of her worst fears is falling any further for Jake than she already has… which considering the high she gets off being with him, may be from a height far greater than she has ever dared to travel ever before.
Book Boyfriends are crazy animals; they come in all kinds of cuddly forms. The enigma that is Jake-the-Rake-Green has many alluring facets. It's more than the fact that he really is a great guy with a soft heart. This guy has that hot/cold/hot/cold thing going for him that is a sure sign of a man in flux. You can't help but fall for the ones that can't be had and who can't have the things they want. Barely leashed passion and yearning is something that my achy breaky heart pitter-patter in it's chassis. The fact that Jake puts Nina in the friends zone and then also makes her the center of his world puts this Book Boyfriend in the categories of Does All The Right Things, Reluctant and Insecure, Enigma, and from all the phobia testing–we will say Pushes Too Hard.
I will not say anything about the last third of the book because it comes from left field and changes the pacing leaving you with a firm, "WTH" and "How did we get here?". You start seeing Jake's POV in this part as well so you see his thoughts and inner dialogue which suddenly make the dim and murky all the more chaotic and mad. In the essence of all things that are holy and unholy you see just what makes and undoes Jake Green–and no, FYI, it is not bananas.
This is a book that I recommend if you are looking for a some man candy. Great for you if you are down for the inked and metal boys. Jake would be a great friend of Rule by Jay Crownover or Lucas from Easy by Tammara Webber.
Penelope Ward's Web Tracks: Facebook, Goodreads, Twitter, Amazon Author Pages.
(Follow all the updates for this blog by visiting and liking the All The Things Inbetween Facebook fanpage. You can also add Google+ All The Things Inbetween page. You can follow me personally on Twitter, Pinterest, Instagram and Goodreads.)