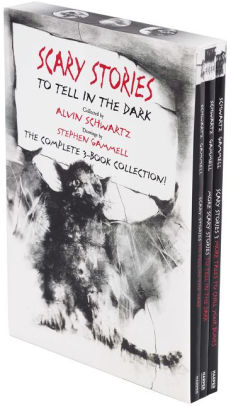 Title: Scary Stories Complete Set
Author: Alvin Schwartz & Stephen Gammell
My Rating: 5 of 5
These books transport me to my Girl Scout Summer Camp days. There has been no other flashback quite as endearing than these troublesome tales of terror.
Alvin Schwartz has curated the finest late night spooktacular accounts to shiver your skin and electrify the hair on the back of your neck, accompanied by the uneasy illustrations of Stephen Gammell who is the artist of dozens of children's novels the set of books is sure to become a favorite
Despite being published over thirty years ago in 1981 Scary Stories to Tell in the Dark are timeless. I've yet to see the movie attached to this but the trailer would have one believe that these yarns and myths are far more dark and complex than the original material. These books were written with the purpose of sharing a spoken history and lore with a young audience. I feel the film suggests a much older age restriction but these books are great for children.
Continue Reading