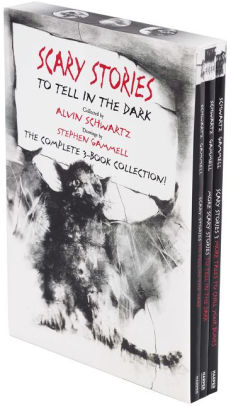 Title: Scary Stories Complete Set
Author: Alvin Schwartz & Stephen Gammell
My Rating: 5 of 5
These books transport me to my Girl Scout Summer Camp days. There has been no other flashback quite as endearing than these troublesome tales of terror.
Alvin Schwartz has curated the finest late night spooktacular accounts to shiver your skin and electrify the hair on the back of your neck, accompanied by the uneasy illustrations of Stephen Gammell who is the artist of dozens of children's novels the set of books is sure to become a favorite
Despite being published over thirty years ago in 1981 Scary Stories to Tell in the Dark are timeless. I've yet to see the movie attached to this but the trailer would have one believe that these yarns and myths are far more dark and complex than the original material. These books were written with the purpose of sharing a spoken history and lore with a young audience. I feel the film suggests a much older age restriction but these books are great for children.
Each section of this anthology is very short, my husband read the first book to me in less than twenty minutes. Each campfire story ends with a jump scare prompt. It's filled with "ARGHs" and "Boos"! You will love revisiting these folk lore scares.
Book two is more of the creepy stories you loved as a kid. The legend of the ghost of a young girl who lingers for one last ghostly encounter with an unsuspecting would be suitor. The man haunted by the soul of one he did wrong. Stephen Gammell's images accompany each short story with creepy illustrations that tests one's eyes and mind to decipher the inky blobs to test your perceptions: is that a glowing apparition or a creeping shadow?
The last book is an eerie finale. It's a gathering of nightmarish tales to be appreciated best during the night to the soundtrack of a brewing storm. The first two books walk you along the murky path to this last chapter; death your final guide. The tales here are not about the bump in the night but rather the banshee's call and the veil between the living and dead.
This trilogy is a must read for anyone. Whether you are looking to entertain the entire family during the autumn holidays or creep out your friends around a campfire.
---
About Alvin Schwartz:
Alvin Schwartz was the author of more than fifty books dedicated to and dealing with topics such as folklore and word play, many of which were intended for young readers. He is often confused with another Alvin Schwartz, who wrote Superman and Batman daily comics strips and a novel titled The Blowtop.
---
For all my Goodreads reviews.
For all my Amazon reviews.
---