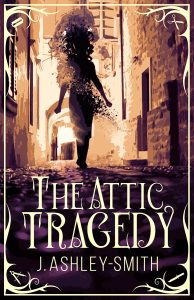 Title: The Attic Tragedy
Author: J. Ashley-Smith
Genre: LGBTQIA+, Coming of Age, Paranormal, Dark Fantasy
My rating: 5 of 5 stars
Sometimes, when I read things written by British or Aussie writers, I feel the story suffers from my lack of knowledge of slang and terminology. It made The Attic Tragedy more beautiful and served its sucker-punches more viciously.
George is dealing with all the things that make adolescence hell: school, the primary devil, and a budding crush with a fellow outcast, Sylvie, a particular demon. Sylvie makes it all worth it though with her gentle whimsy and accepting soul–it doesn't hurt that Sylvie is magical. It's not just that she's beyond a dream, she says she sees ghosts. George can't help but fall hopelessly for the ethereal beauty. But life doesn't end at high school; neither does George's story.
"Don't be sorry," she said. "Don't ever be sorry. You're beautiful, George. You're tree roots and fresh mown grass and the smell of rocks and apples. What's inside you is so real, so alive. It's burning you up."

The Attic Tragedy by J. Ashley-Smith
J. Ashley-Smith weaves a tale of trials, failures, and successes centered around protagonist George and her struggle with self-acceptance and inner squabbles with self-loathing. Centering around vignettes of heartbreak as she watches Sylvie grow up, and away, from the girlhood qualities that made her so unique to become a wife and mother to a smarmy prig.
This book is quite magical. Highly recommendable.
I voluntarily reviewed a complimentary advance copy of this book.
Continue Reading