Title: Sweet Chaos (Love and Chaos #2)
Author: Emery Rose
Genre: Contemporary
My rating: 4 of 5 stars
Well, this book gets an extra star for setting me off on a Pearl Jam binge that hasn't ended in days.
This book is sexy looking.
This book is sexy reading.
This book is sexy inside and out.
I'm from San Diego, and this book is such a devilish homage that it tickles me to review it.
Dylan St. Clair grew up never having much of any value to anyone other than his twin Remy. That is until he grew into his pretty and sexy phase, and rich trophy wives and rebellious daughters found a purpose for him. It's easy getting lost to demons when they are the only thing that looks back at you in the mirror, and no one recognizes you for who you are anyway. At least it was like that for Dylan until an eleven-year-old girl scared him straight while he was attempting to sneak into her sister's bedroom window. Scarlet Woods saw a broken boy when everyone else saw a tool.
–Okay, so I have a book crush. Like the entire book, I am crushing on this book. I love that Emery Rose got how my region talks correctly. We use 'dude' as a noun, verb, adjective, adverb, profanity, warning, a term of disbelief, and form of endearment. It's an entire vocabulary. And while this story takes place north of me, SoCal beach community below LA County is a channel of intermittent neighborhoods ranging from private-filthy-rich to meager-public-beach or nude beach even.
But if you read this book, you are reading us, as in SoCal. And Scarlet Woods is the everygirl, and you should love how Emery Rose portrays her. Of course, that doesn't mean Scarlet doesn't make me want to smack her with her neverending back and forth–Will she do this? Won't she?
Scarlet is a Riot Grrrl until there is need for a riot, and then she is more of a passenger–but I love her for being able to put up with Dylan because he's a handful of dirty that I respect a girl holding.
I want people to read this book! Do it!
---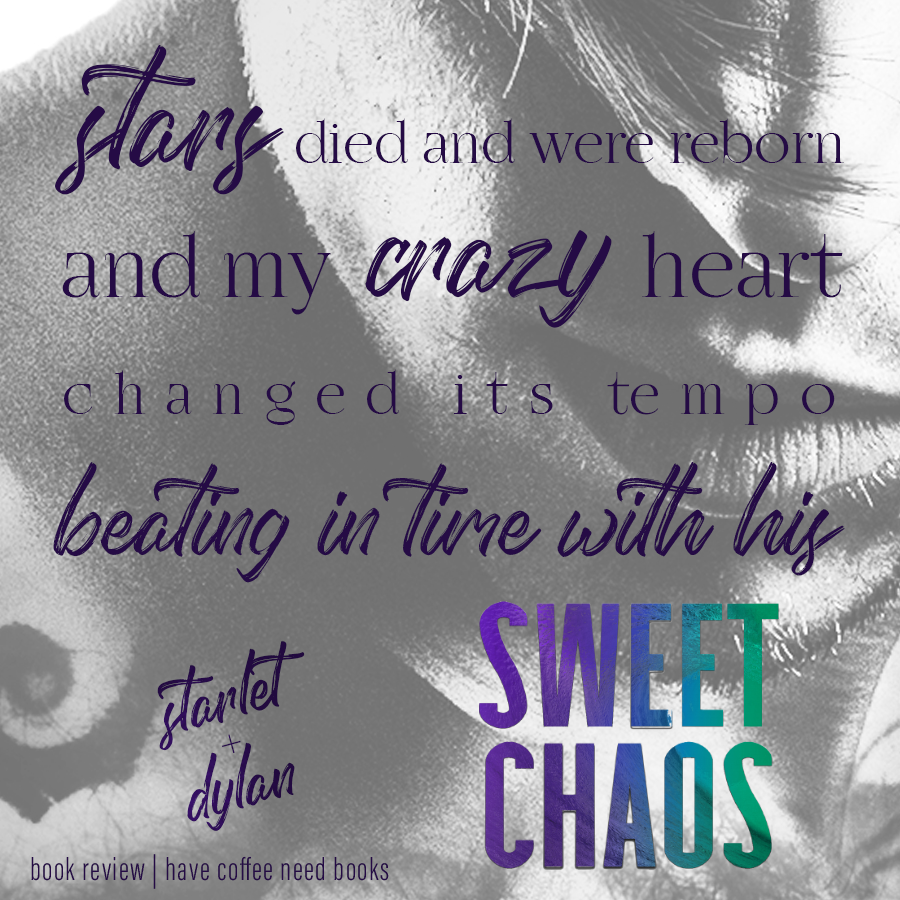 Title: Sweet Chaos (Love and Chaos #2)
Author: Emery Rose
Genre: Contemporary
Release Date: 03 April 2020
Summary:
𝗗𝘆𝗹𝗮𝗻 𝗦𝘁. 𝗖𝗹𝗮𝗶𝗿 𝗶𝘀 𝗰𝗵𝗮𝗼𝘀. 𝗔𝗻𝗱 𝗰𝗵𝗮𝗼𝘀 𝗮𝗹𝘄𝗮𝘆𝘀 𝗹𝗲𝗮𝘃𝗲𝘀 𝗮 𝘁𝗿𝗮𝗶𝗹 𝗼𝗳 𝗱𝗲𝘀𝘁𝗿𝘂𝗰𝘁𝗶𝗼𝗻 𝗶𝗻 𝗶𝘁𝘀 𝘄𝗮𝗸𝗲. 𝗜 𝗷𝘂𝘀𝘁 𝗻𝗲𝘃𝗲𝗿 𝗲𝘅𝗽𝗲𝗰𝘁𝗲𝗱 𝗶𝘁 𝘁𝗼 𝗯𝗲 𝗺𝘆 𝗵𝗲𝗮𝗿𝘁 𝗵𝗲 𝗱𝗲𝘀𝘁𝗿𝗼𝘆𝗲𝗱.
I've had a crush on Dylan St. Clair ever since he climbed into my bedroom window ten years ago.
𝘞𝘳𝘰𝘯𝘨 𝘸𝘪𝘯𝘥𝘰𝘸, 𝘙𝘰𝘮𝘦𝘰.
I was eleven, he was seventeen.
A bad boy from the wrong side of the tracks with a chip on his shoulder and fresh bruises from his latest fight, he went on to play the starring role in all my teenage fantasies.
But I always knew he was off-limits. So, over the years I gave up wishing and hoping we could ever be together.
Until he kissed me on a cold beach one starry winter's night.
Until he said those five words that changed everything.
𝘐 𝘱𝘪𝘤𝘬𝘦𝘥 𝘵𝘩𝘦 𝘸𝘳𝘰𝘯𝘨 𝘴𝘪𝘴𝘵𝘦𝘳.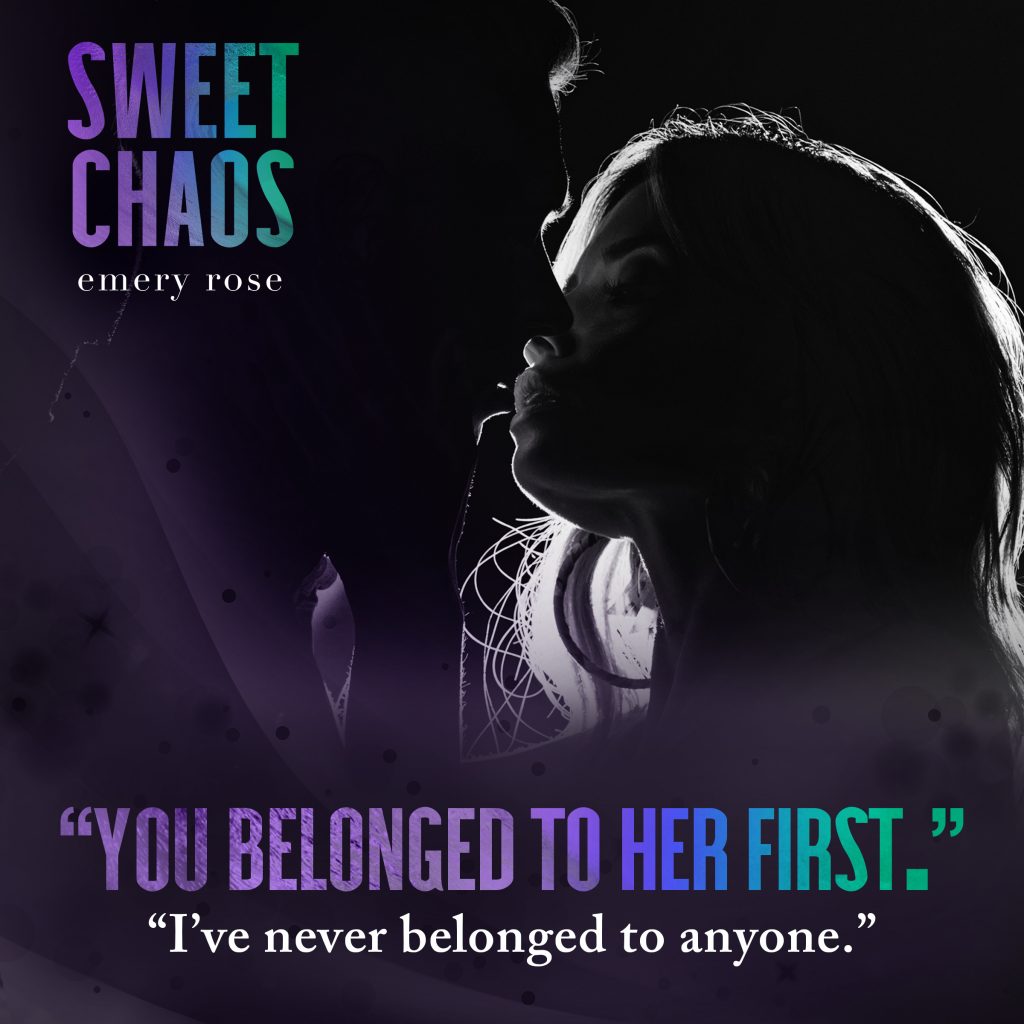 About Emery Rose: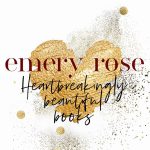 Emery Rose has been known to indulge in good red wine, strong coffee, and a healthy dose of sarcasm. She loves writing about sexy alpha heroes, strong heroines, artists, beautiful souls, and flawed but redeemable characters who need to work for their HEA.
When she's not working on her latest project, you can find her binge-watching Netflix, trotting the globe in search of sunshine, or immersed in a good book. A former New Yorker, she currently resides in London with her two fabulous daughters and one grumpy, but loveable Border Terrier.
Connect with Emery Rose:
Website | Instagram | Facebook | Twitter | BookBub | Amazon
---