Title: Dreams of Fire
Author: Christian Cura
Genre: Paranormal Romance, Urban Fantasy, LGBTQ
My rating: 3 of 5 stars
Good vs. Evil.
Witches, demon slayers, spells, family loyalty, love, heartache, rivalry, friendship, and betrayal are the core of Christian Cura's Dreams of Fire plot. If you enjoy Lev Grossman's Magicians or the tv adaptation of L.J. Smith's Secret Circle, Dreams of Fire is something that could appeal to you.
Dedication to protecting non-mystics from magic-users with ill intent is what drives the Hartman Family. But the world of magic isn't easily policed. The inciting incident of this story lies in temptation. All people can act in a good or evil fashion, or both at the same time. True good is the ability to make the difficult choice, a selfless act when confronted with the temptation to work outside of the mystic world rules.
Kara Hartman fell prey to the slippery slope of mischief run amok and fell into the clutches of lawlessness while studying magic at the prestigious Academy of Mystic Arts. The line she didn't draw soon enough is now a death shroud marked by betrayal. She survived the unhappy end of a losing battle but with blood on her hands. Now the reluctant mystic is a scarred artist starting over in a more comfortable setting. But her escape is hindered by the mere fact that a blind eye isn't a way out.
This novel is an excellent start to the series but is fraught with red ink mistakes.
World-building in Dream of Fire overreaches; great story structure creates layers for character development and plot advancement. The folds, overlapping, padding between the layers allows a story moments to breathe. It's a place where the reader connects with the plot and characters, the opportunity for the reader to become part of what they are reading. Christian Cura's magical world lies upon the surface of the narrative. The world is expansive rather than deep. Dreams of Fire takes time before the exposition evolves into something with features.
Compounding anchorless is too frequent POV and timeline shifts preventing the reader from exploring the plot. The intermittent cut-aways between Kara in DC and John in Canada stutters the progress of the narrative. Cura is trying to cover far too much surface information and not nearly enough meat. A little mystery goes farther than knowing the inner workings of far too many characters. Especially in an emerging story where a reader doesn't have any established experience, I want to learn about a character and be intrigued organically. I don't need the story dumps.
Rookie novels are written less for the reader and more for the writer–in that the process there is growth. While I went headfirst into red pen issues for Dreams of Fire, I firmly believe the concept is promising and appealing.
I am a big fan of the love story of Selene and Kara. It's very lowkey and tentative, beautiful because it enforces an intimacy between the two women–but the dialogue lacks fire because it's all exposition. I want to grow with a character. Kara and Selene's interaction and relationship often read mechanical as if it is an outline. The backstory of Kara's friendship with Charlotte is incredibly compelling. The flashbacks are stories being told to the reader by the characters. Cura fills the present timeline with bullet point topics. Only one of those two things is fun to read.
And I won't lie here, Charlotte might have some pretty horrible habits and issues, but there is much personality to her that Kara sometimes lacks. I don't think I'm supposed to be Team Charlotte.
BUT GO TEAM CHARLOTTE!
A drawback of the format is troublesome character POV drops.
The chapter/location/character introductions: the who, what, where, when are organized as "Character, Location, Timeline." It's a perspective marker for the reader: character X's part of the story at Y point in the narrative. Unfortunately, the MC of a scene occasionally has an out of body experience; for a brief moment, we are looking at this POV's MC from the person with whom they are interacting.
I'm aware that there is a heavy hand of critique here. Despite the need for improvement, I enjoyed the plot and the direction of this book. I am eager to see where Saba's story leads.
I voluntarily reviewed a complimentary advance copy of this book.
---
Title: Dreams of Fire
Author: Christian Cura
Genre: Paranormal Romance, Urban Fantasy, LGBTQ
Release Date: December 05, 2019
Summary:
Meet Kara Hartman, a young painter living and working in D.C. She would love to let you believe she is just an ordinary young woman with a dream of sharing her art with the world. But she is hiding an astonishing secret: Kara can wield magic, the most powerful force in the universe. Traumatized by the loss of her brother, she wants nothing more to do with magic. But when an old foe resurfaces, hellbent on destroying all that she loves, Kara has no choice but to embrace the only power that can stop her.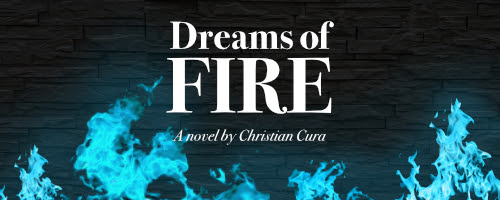 ---
About Author:
Christian Cura is an independent writer who dreams of becoming a successful author. Ever since he read Lord of the Rings as a teenager, it has been his dream to write and publish a novel of his own. Christian's favorite authors include J.R.R. Tolkien, J.K. Rowling and Robert Jordan. When he is not writing, Christian can be found getting beaten up at his MMA gym. His other hobbies include, drawing, photography, graphic design and eating.
Connect with Author: