Title: Do You Dare? (Truth and Dare Duet #1)
Author: Lylah James
Genre: Contemporary Romance
My rating: 4 of 5 stars
For the sake of a place to begin: would you like to hear about my bookgirlcrush and story savior Lila Garcia?
Do You Dare is a slow-burn romance that had me scratching my head as to what genre it was supposed to be through the first dozen chapters. This is not Erotica–or at least nothing at all graphic happens for roughly 96% of the book. There is more of a tell-the-dirty and less show-the-dirty story-driven narrative. It leaves a lot of room for character development, and that in itself is why Lila is my current bookcrush.
Maddox Coulter is afforded plenty of indulgences due to his family's wealth and influence. His looks and talent are icing on his expensive cupcake-like existence, which is a good thing for most of these hungry bitches, but Lila already knows boys like him taste like regret. Without meaning to incite the predator, Lila dared to commit the ultimate sin; she waited for coffee while having boobs.
The reason that alpha animals fight for dominance is that they are pushing mates and peers to test stamina. Who is tough enough to hang around? Two alphas are double the trouble, double the fun; Lila doesn't like to lose, and Maddox lives for the win. When all their battles end in stalemates, an alliance is the only way to go. And finally, the story took off, and it became fun to read.
I loved the never-back-down Lila who would kick the game board over and start a riot. When Lylah James began to show us that Lila could be charitable to her enemy, I began to understand what made Maddox worthy. And conversely, seeing Maddox move from needling her to respecting and protecting her, it was clear to me that Lila isn't just an agitator. She is a warrior — a queen. And I love the hell out of her.
Now back to the genre thing and pacing.
I was completely confused because I thought this was some steamy taboo romance based on the blurb. It felt like maybe it was a trading partner thing or revenge romance–but this is nowhere near either suggestion. The book starts in the present with the mic drop 'I dare you' and then flashes back to high school. The majority of the book takes place in a YA+ almost NA slot. The plot-driven struggles of the two main characters are the only thing that pushes this into a mature audience demographic. It's a trigger dense novel. But the classification as Erotica is overkill. I am assuming that book two is going to be the tipping point.
Although I found the first couple of chapters plodding, the payoff was good. I am excited to read the second half.
Oh, wait, I do have a complaint. Lylah James needs to learn about football. Like what season it's played and when championships games take place. It might be useful for her to go back and check out her timetable, too, because the weather is a constraint she isn't working within.
I voluntarily reviewed a complimentary advance copy of this book.
---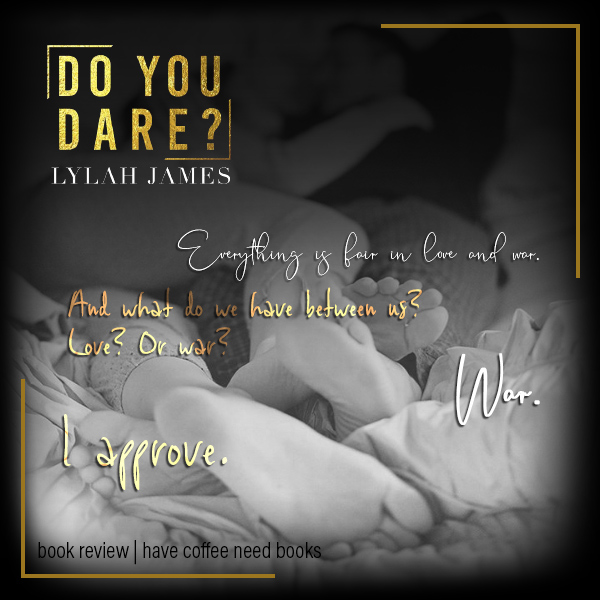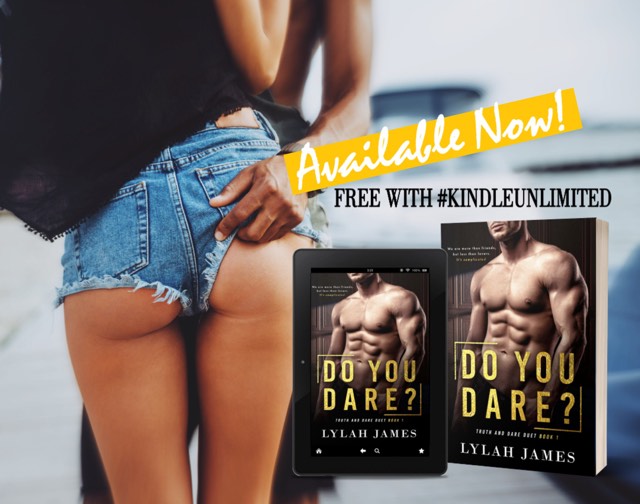 ---
Title: Do You Dare? (Truth and Dare Duet #1)
Author: Lylah James
Genre: Contemporary Romance
Release Date: October 24, 2019
Summary:
What happens when a dare goes too far?

Maddox Coulter. Reckless bad boy. Infamous playboy. My nemesis. And no my best friend.

I know he'll never leave me hanging. He knows I'll never refuse a dare.

Everywhere we go we turn heads, but it's not like that.

Until it is.

For one of us, anyway.

I've always known he would be my downfall.

But I trusted him to catch me.

He proved me wrong.

Maddox has gone too far, and I don't know if I want to rein him in or push us further into dangerous territory.

He tells me those three little words that I crave.

Three little words I want from no one else.

I dare you.

Except this time, it's no simple dare. This could burn us to the ground.

"I dare you to fuck him."
---
About Lylah James:
Author of The Mafia and His Angel. Creator of Alessio Ivanshov and Aylessio.
Reading is her first love and always will be.
Writing is her passion. She writes because the voices in her head won't stop and because they deserve to be heard and read. Lylah James writes about drool worthy and total alpha males, with strong and sweet heroines. She makes her readers cry – sob their eyes out, swoon, curse, rage and fall in love. Mostly known as the Queen of cliffhanger and the #evilauthorwithablacksoul, she likes to break her readers' hearts and then mend them again.
She uses all her spare time to write. If she is not studying, sleeping, writing or working – she can found with her nose buried in a good romance book, preferably with a hot alpha male.
Connect with Lylah James:
Website | Instagram | Facebook | Twitter | BookBub | Amazon
---