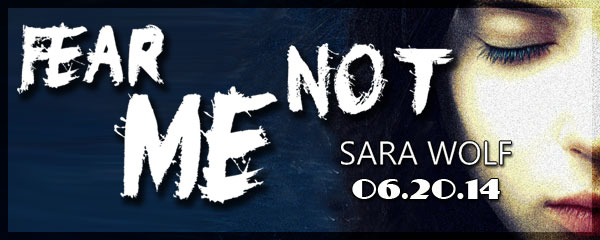 A note from the author of Fear Me Not:
Hey guys! Sara Wolf here. I've written a lot of books before Lovely Vicious, but it's only now that I realized people might want to read them!
So I'd like to introduce FEAR ME NOT, a Young Adult Sci-Fi about aliens, and the girl who's signed up to the feed them with her emotions, since they don't eat regular food like we do. Victoria is a messed up girl trying to help her broken family, and Shadus is a lone-wolf alien prince with nothing to go back to. Together, they forge a friendship (and maybe more!) amid a lot of hate and racial tension. But there are people, and aliens, who'd do anything to keep them apart. It's very much a Romeo and Juliet type of story, but with a 1960's desegregation vibe, and space lasers, of course. I hope you enjoy it!
~~~~~~~~~~~~~~~~~~~~~~~~~~~~~~~
Fear Me Not Synopsis:
The aliens crash-landed on Earth eleven years ago. And now, sixteen-year-old Victoria Hale feeds them. With her emotions. 

Victoria is an EVE – an Emotion Vesicle Engraft – and one of few humans who are genetically capable of producing emotions for the Gutters to feed on. She's doing it for the money – her sister Alisa needs a good doctor, and fast. But what she didn't count on was being sent to the world's first desegregated high school for Gutters and humans. She didn't count on the paparazzi, the protestors, or the insane Gutter politics and government secrets. She didn't count on the crimson-eyed Gutter prince with an intriguing heart of cold iron, either. 

She especially didn't count on murder. 

But it's counting on her.
~~~~~~~~~~~~~~~~~~~~~~~~~~~~~~~

Purchase Fear Me Not:
Available Upon Release
~~~~~~~~~~~~~~~~~~~~~~~~~~~~~~~
Sara Wolf's Web Tracks:
Website | Facebook | Twitter | Goodreads
~~~~~~~~~~~~~~~~~~~~~~~~~~~~~~~
Sara Wolf on All the Things Inbetween:
Any Day That Ends In YA – Savage Delight by Sara Wolf
Book It – In News Today: Sara Wolf Says Savage Delight Date Will Be February 10, 2014
Any Day that Ends in YA – Lovely Vicious by Sara Wolf
Character Q&A – The Dirt on Jack Hunter
~~~~~~~~~~~~~~~~~~~~~~~~~~~~~~~
Sara Wolf's Books: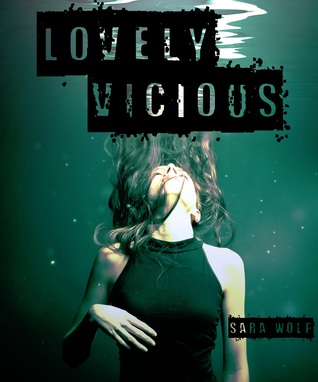 Lovely Vicious Synopsis: 
Fire meets ice. Love meets hate.
Seventeen-year-old Isis Blake hasn't fallen in love in three years, nine weeks, and five days, and after what happened last time, she intends to keep it that way. Since then she's lost eighty-five pounds, gotten four streaks of purple in her hair, and moved to the Buttcrack-of-Nowhere Ohio to help her mom escape a bad relationship.
All the girls in her new school want one thing – Jack Hunter, the Ice Prince of East Summit High. Hot as an Armani ad, smart enough to get into Yale, and colder than the Arctic, Jack Hunter's never gone out with anyone. Sure, people have seen him downtown with beautiful women, but he's never given high school girls the time of day. Until Isis punches him in the face.
Jack's met his match. Suddenly everything is a game.
The goal: Make the other beg for mercy.
The game board: East Summit High.
The reward: Something neither of them expected.
~~~~~~~~~~~~~~~~~~~~~~~~~~~~~~~

Purchase Lovely Vicious:
Amazon | B&N | Kobo | Smashwords
~~~~~~~~~~~~~~~~~~~~~~~~~~~~~~~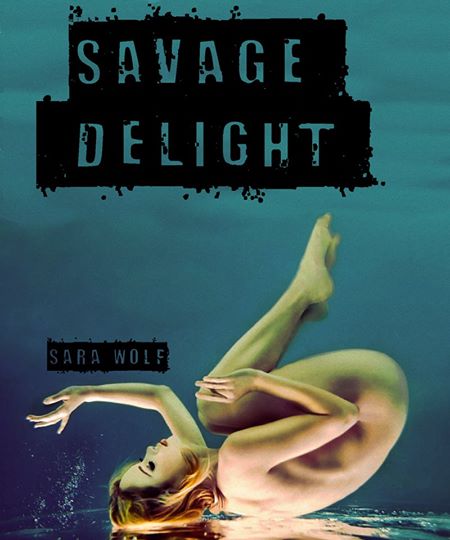 Savage Delight Synopsis:
Light meets dark. Secrets meet truth. 

It's been three years, twenty-five weeks, and five days since Isis Blake fell in love, and if she has it her way, it'll stretch into infinity. 

After a run-in with her mom's ex-boyfriend, she scrabbles to remember what she's lost to amnesia. Her ex-nemesis Jack falls deeper into a pit of despair, and his girlfriend Sophia does all she can to keep him to herself. But as Isis' memories return, she finds it harder and harder to resist what she felt for Jack, and Jack finds it impossible to stay away from the only girl who's ever melted the ice around his heart.

As the dark secrets surrounding Sophia emerge, Isis realizes Jack isn't who she thought he was. He's dangerous. But when Isis starts receiving terrifying emails from an anonymous source, that danger might be the only thing protecting her from something far more threatening.

Her past. 
~~~~~~~~~~~~~~~~~~~~~~~~~~~~~~~

Purchase Savage Delight:
Amazon | B&N | Smashwords
~~~~~~~~~~~~~~~~~~~~~~~~~~~~~~~
If you are interested in becoming a book reviewer or helping me with All The Things Inbetween contact me at Ali is Amazekittens and I will have my cats talk to your people. There are wicked, wondrous benefits to such arrangements as the ones we would have. I am awesome at not replying to mail timely, not getting to my to-do-list, and forgetting to eat. I pay in pics of kittens.
(Follow all the updates for this blog by visiting and liking the All The Things Inbetween Facebook page.)
All The Things Ali Web Tracks: Google+ | Twitter | Pinterest | Instagram | Shelfari | Goodreads | Last.fm | Stumbleupon | LinkedIn | Camp NaNoWriMo 2014 …And I am always looking for new friends on Bingo Blitz, everyone but kittens need apply.