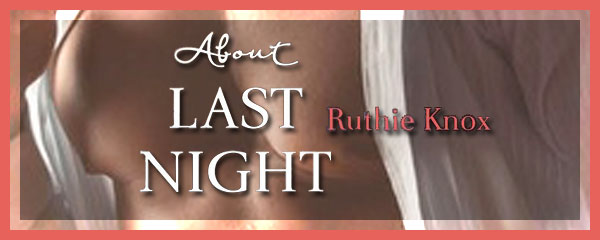 I was lucky enough the other night to be one of the first 40 Bloggers to reply to an InkSlinger PR email about a Ruthie Knox promotion for her new release, About Last Night. The title is on sale this week for only 99¢. But for one lucky individual you can win a free copy by simply leaving a comment and liking the post on my All The Things Inbetween Facebook page. Simple as kitten's milk!
~~~~~~~~~~~~~~~~~~~~~~~~~~~~~~~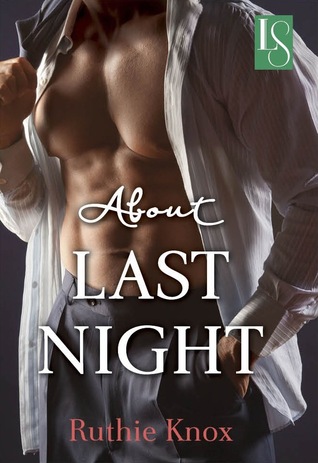 About Last Night Synopsis:
Cath Talarico knows a mistake when she makes it, and God knows she's made her share. So many, in fact, that this Chicago girl knows London is her last, best shot at starting over. But bad habits are hard to break, and soon Cath finds herself back where she has vowed never to go . . . in the bed of a man who is all kinds of wrong: too rich, too classy, too uptight for a free-spirited troublemaker like her.
Nev Chamberlain feels trapped and miserable in his family's banking empire. But beneath his pinstripes is an artist and bohemian struggling to break free and lose control. Mary Catherine—even her name turns him on—with her tattoos, her secrets, and her gamine, sex-starved body, unleashes all kinds of fantasies.
When blue blood mixes with bad blood, can a couple that is definitely wrong for each other ever be perfectly right? And with a little luck and a lot of love, can they make last night last a lifetime?

~~~~~~~~~~~~~~~~~~~~~~~~~~~~~~~
Ruthie Knox's Bio: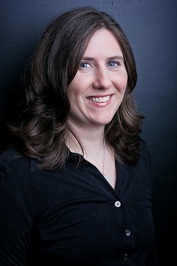 USA Today bestselling author Ruthie Knox writes contemporary romance that's sexy, witty, and angsty—sometimes all three at once. Her debut novel, Ride with Me, is probably the only existing cross-country bicycling love story. She followed it up with About Last Night, a London-set romance whose hero has the unlikely name of Neville, and then Room at the Inn, a Christmas novella—both of which were finalists for the Romance Writers of America's RITA Award. Her four-book series about the Clark family of Camelot, Ohio, has won accolades for its fresh, funny portrayal of small-town Midwestern life. Ruthie also writes New Adult romance as Robin York. She moonlights as a mother, Tweets incessantly, and bakes a mean focaccia. She'd love to hear from you, so feel free to drop her a line.
~~~~~~~~~~~~~~~~~~~~~~~~~~~~~~~
Ruthie Knox's Web Tracks:
Website | Facebook | Twitter-Ruthie Knox | Twitter-Robin York | Google+ | Goodreads-Ruthie Knox | Goodreads-Robin York | Amazon Author Page | Pinterest
~~~~~~~~~~~~~~~~~~~~~~~~~~~~~~~
Robin York on All The Things Inbetween:
Book It – In News Today: Robin York's DEEPER only 99¢ right NOW!
Book It – In News Today: Ruthie Knox Reveals Just A Bit About Last Night
~~~~~~~~~~~~~~~~~~~~~~~~~~~~~~~
If you are an Indie author and you would like to be part of the All The Things Inbetween Weekly Indie Word Slinger Project 2014 I'd love to hear from you! Contact me via email after reading the requirements and details on the Just The Facts, Ma'am post. All dates are scheduled on a first collected, first claimed basis. Get your packet into me early to claim your slot to be a Word Slinger!
(Follow all the updates for this blog by visiting and liking the All The Things Inbetween Facebook page.)

All The Things Ali Web Tracks: Google+ | Twitter | Pinterest | Instagram | Shelfari | Goodreads | Last.fm …And I am always looking for new friends on Bingo Blitz, everyone but kittens need apply.