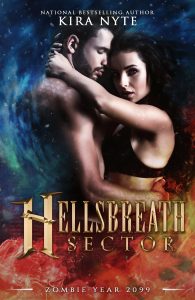 Title: Hellsbreath Sector (Zombie Year 2099 Collection)
Author: Kira Nyte
Genre: Paranormal Shifter Romance
My rating: 3 of 5 stars
Zombie Year 2099 series has another release, and it's Kira Nyte's Hellsbreath Sector, a refuge for humans and supernaturals with a zombie outpost next door.
As a Fae Princess, Ysaria hasn't ventured into the human realm despite being very curious about it. She foolishly convinced her brother to open a portal so they could adventure but found their magic bound and themselves imprisoned in cages by zombies. This species of zombies is much different than other Zombie Year 2099 undead; they are intelligent with a hunger for flesh. Their prisoners are slaves; supernaturals aren't on the menu because they taste horrible to zombies, but they do have value in another flesh trade.
Yet slaves are slaves, beatings and violations are frequent. Ysaria keeps them angry, so she takes the punishments rather than worse. Not being able to access her powers is a further complication. Her brother Dastion and she are helpless. The only chance they have–an escape, she takes advantage of the first chance she gets. But weakened after days of captivity, she fears it will prove fruitless. It almost is.
Continue Reading