Title: Valentine Pride: The Complete Series
Author: Laura Greenwood & L.A. Boruff
Genre: Paranormal, Shifter Romance
My rating: 3 of 5 stars
This collection of novellas and extras are smile-worthy and steamy, with laugh-out-loud moments. If shifter tales are your cup of tea, this set is for you.
Cas, Levon, and Kerry together keep the Valentine Pride safe. The Pride is a gathering of shifters with Cas as their Alpha. Protecting and caring for their entire shifters is their purpose until Leola stumbles upon their territory and their cats go haywire–suddenly they only want their lovely mate and nothing more matters.
I had some trouble with book three–it never ended. I couldn't get into it. I'm not a mom, and the happy hormone baby crap isn't something I can buy into, and it was painfully full of it. It also puts a significant pause in the sexy; the last novella just sucked.
I do like sets like this over individuals, but I wish they would have included April and her wolves story in this too.
I voluntarily reviewed a complimentary advance copy of this book.
---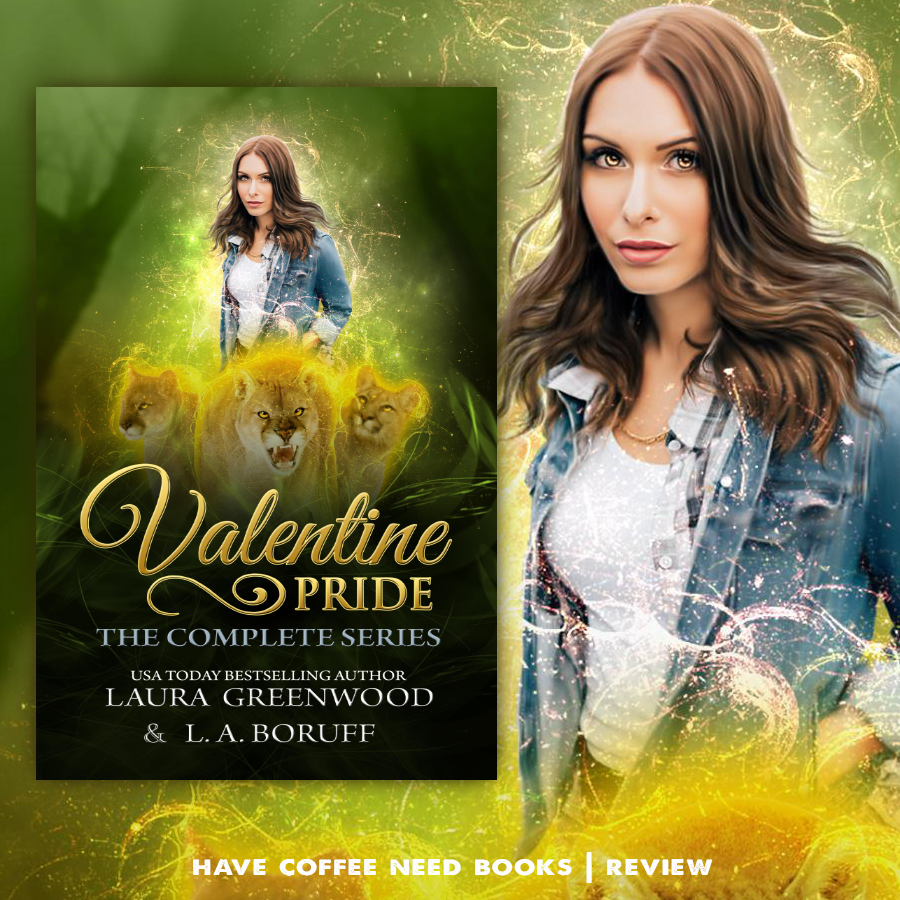 Title: Valentine Pride: The Complete Series
Author: Laura Greenwood & L.A. Boruff
Genre: Paranormal, Shifter Romance
Release Date: 03 April 2019
Summary:
Delve into a world full of shifters and fated mates in the complete Valentine Pride series, a reverse harem paranormal romance packed with fun and heat.
Leola has always been on her own until a fateful walk in the woods introduces her to three mountain lion shifters who change her life forever.
The Valentine Pride complete series included Unicorn Mates, Unicorn Luck, and Unicorn Truth, as well as the happily ever after short stories, Unicorn Surprise and Unicorn Ends.
---
About Laura Greenwood:
Laura is a USA Today Bestselling Author of paranormal, fantasy, and urban fantasy romance (though she can occasionally be found writing contemporary romance). When she's not writing, she drinks a lot of tea, tries to resist French macarons, and works towards a diploma in Egyptology. She lives in the UK, where most of her books are set.
Connect with Laura Greenwood:
Website | Instagram | Facebook | Twitter | BookBub | Amazon
---
About L.A. Boruff:
L.A. (Lainie) Boruff lives in East Tennessee with her husband, three children, and an ever growing number of cats. She loves reading, watching TV, and procrastinating by browsing Facebook. L.A.'s passions include vampires, food, and listening to heavy metal music. She once won a Harry Potter trivia contest based on the books and lost one based on the movies. She has two bands on her bucket list that she still hasn't seen: AC/DC and Alice Cooper. Feel free to send tickets.
Connect with L.A. Boruff:
Website | Instagram | Facebook | Twitter | BookBub | Amazon
---